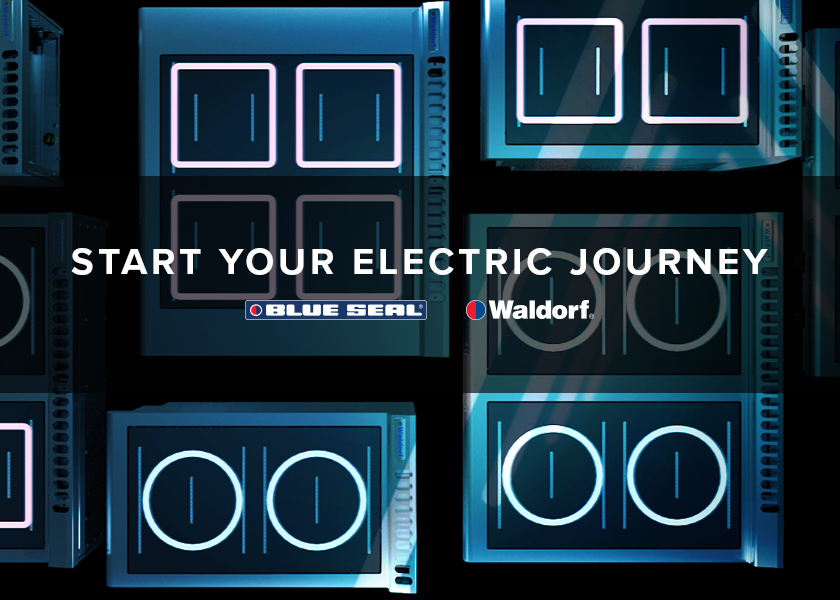 It's true that not everyone has ready access to renewable energy sources yet, but the hospitality industry is shifting now to have a larger range of options for becoming more sustainable.
Like many other industries, investing in electric equipment is built to reduce energy consumption by using less electricity, as well as reduce waste and increase efficiency. For us, electric cooking equipment is more well thought of to help you save on your energy bills and reduce your carbon footprint. It is also for situations where gas connections are unavailable.
Meet our new Waldorf and Blue Seal Electric Range.
Seamless in operation and seamless in aesthetics. With the latest addition of induction cooktops and electric sealed hob cooktops, you can achieve a truly streamlined workspace when applying electric cooking equipment as you won't need to mix and match with other cookline appliances anymore. With our preferred industry depth of 800mm in our Waldorf and Blue Seal commercial catering equipment range.
Our new electric cooking equipment is made for the modern kitchen, with modern technology. These are the perfect choice for any hospitality establishment looking to cook faster in the commercial kitchen, with speedier service to their customers whilst not increasing their energy cost and carbon footprint. With the Waldorf and Blue Seal new electric range, you can start the conversation today on going green and making a difference for tomorrow.
Electric Induction Cooktops
Waldorf and Blue Seal now offer an expanded range of electric induction cooktops powered by INDUS Compactmodul technology RTCSmp system (Realtime Temperature Control System Multi Point). This technology monitors continuously in real time on its energy supply, the temperature of the cook zone and the state of the components and ensures the most efficient energy transfer as well as maximum safety.
The energy source from contact heating with induction technology is more concise, and thus more energy efficient for the speed, control and precision in cooking. Get instant heat only when you need it, and it switches off when there is no pan contact with the induction zone. Overall, induction cooking can save up to 40% on electricity costs.
So why choose induction technology?
1: Speed / efficiency
Walorf and Blue Seal induction cooking heats pan up to 50% faster than gas cooking appliances and up to 80% faster than traditional electric radiant elements, consuming less energy within the period.
2: Cost to run
With induction, no pan equals no power use. With gas or other electric cooktops, you are still consuming "fuel / power" when the pan is removed from the cooking surface.
3: Comfortable working kitchens
Induction only heats the pan. With gas or other electric appliances heat is radiated out into the commercial kitchen environment.
4: Safety
Induction only heats the base of the pan which in turn heats the glass below it. Gas or other electrical products, which by their very nature can be dangerously hot to touch. There is also the question of what by-products of combustion from gas appliances are in the kitchen atmosphere.
5: Cleaning
Induction cleaning is very simple, in most cases it can be wiped clean with a cloth. Gas and older-style electrical cooking equipment require intensive cleaning around gaps between hob burners and radiant coils.
Both Blue Seal and Waldorf electric induction cooktops are available in 450mm or 900mm widths, 450mm wide induction cooktops are available in single, two zones, whilst the 900mm induction has four zones available in round, full area or a mix of both round and full area induction cooking.
Electric Sealed Hob Cooktops and Oven Ranges
Our selection of electric cooktops has expanded to include sealed hob cooking surfaces. The hobs are constructed with 2.6kW cast iron hot plate elements and have a 304 stainless steel top that is formed in one piece, making them incredibly easy to clean as there are no gaps to allow for trapped debris.
Fully modular and available with different base options in 2, 4, or 6 hob configurations to fit in commercial kitchens of any size. Additionally, electric sealed hobs include oven range options with choices for static or convection ovens.
With both Blue Seal and Waldorf's new induction and sealed hob cooktops, you also get the flexibility to choose your base options – bench mounted on a leg stand, cabinet base or with refrigeration underneath.
Investing in electric commercial cooking equipment is an investment in our future. If you are deciding to switch to a more sustainable and environmentally friendly choice, and you will be able to save money in the long run. For more information visit Moffat and contact us today.